Understanding the customer is the key driver for sustainable change for financial firms
07/02/2023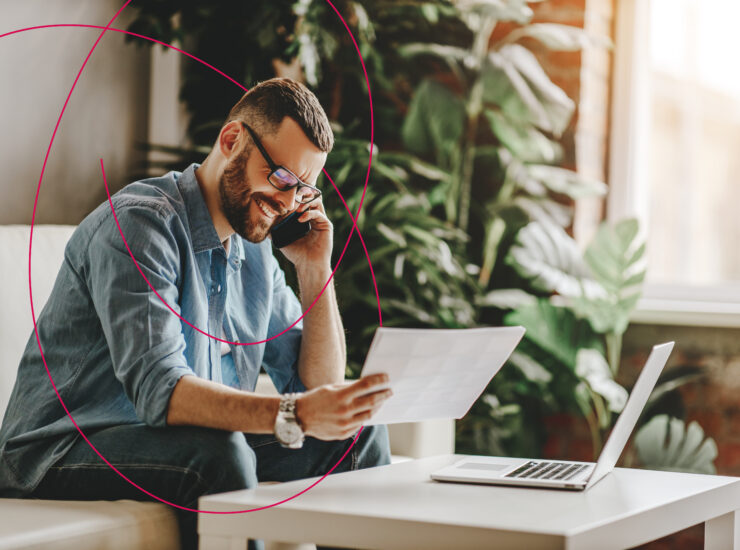 There's a serious debt problem consuming society. People are being increasingly overwhelmed with debt and are struggling to make repayments. This is affecting households in a plethora of ways, impacting mental health, and also causing issues on the side of the institution.
Getting into debt has never been so easy as it is today. However, the solutions to help people get out of debt aren't keeping up.
Debt resolution needs a rethink. As we look towards the future, in a climate where money is on everyone's mind, it's crucial to see what needs to change to avoid the worst outcomes of a financially unstable society.
A society hooked on credit
It's no surprise that more people are getting into debt. It's an ingrained part of our culture. From a young age, people have to rely on loans. Students take out loans so that they can get by, and it begins the journey of relying on credit.
The way debt can be encouraged also shows itself in credit scores – a credit score essentially can reward people for not being good with money.
In the West, credit cards are almost romanticised. There's an impression of free money to buy whatever you want, whenever you want it. Around 59.6 million credit cards were issued in the UK last year – showing demand is there.
More and more businesses are offering credit options for people to purchase goods, Klarna, Clearpay and Very Pay to name a few. It sets an alarming precedent that soon if a company doesn't offer these options, it will suffer competitively and be somewhat of a disappointment for consumers. This will further normalise relying on credit and getting into debt as a result.
So, how can we manage a society increasingly hooked on credit and drowning in problem debt?
Financial firms need a better way to deal with debt as it increases
People in the UK owed £1,767.1 billion of debt at the end of January 2022. According to the same source, this is up £62.2 billion from the same time last year.
The cost of credit is increasing, and firms are still incentivising staff to hand it out to customers. It's creating a bigger diversion of wealth, and the younger generation are suffering for it. It perhaps wouldn't be such a big issue if incomes were keeping up with the cost of credit increase, but generally they aren't. And now, people are in a position where they are unable to make repayments.
This is partly because incomes are not increasing as the cost of living does, because of the energy crisis – resulting in households struggling financially – and unexpected financial shocks caused by the pandemic.
These societal problems that are contributing to more people to get into debt aren't going away. In fact, they're only getting worse. Firms need to shift the way they manage their customers not just to protect their business, but to help protect their most vulnerable customers. This is something firms need to start taking appropriate responsibility for.
Using technology the right way
Technology has been used by many firms, especially challenger banks, to change the way they operate. But, this hasn't necessarily been for the better. Digital technology and the software available to banks has simply sped up their processes. Part of this includes making obtaining a loan quicker, easier and more accessible for the consumer.
To better deal with consumer debt, firms need to make getting to a solution this quick and easy too. Technology is there to help us and make our lives better, only if it's used in the right way. Firms need to invest in solution-centred technology that can help consumers to manage their money better.
Customer expectations
Technology has changed the way that we interact with the world, but the main driver isn't the technology itself, it's the expectation. A standard has been set – mainly by smartphones – that means people expect their experience to be efficient and straightforward, reaching a result quickly.
Many institutions are evolving their websites, apps, and the way their products and services are delivered with that in mind. So, much revolves around the experiences the consumer is now given, and firms need to make sure they meet these expectations.
The businesses that are the most successful are the ones that really understand and prioritise their customers.
Improving debt advice
Debt advice is definitely under pressure. Can you say that your firm provides effective and genuinely useful debt advice to your customers? Keeping in mind the two above points, debt advice needs to meet customer expectations and utilise technology to give the best results for all.
The need for professional debt advice is there, but the solutions aren't. Your duty as a firm is not just to lend money, but about the care that comes with that. This responsibility is surfacing with regulation such as The Duty, encouraging banks to act in more socially conscious ways, and take accountability for their actions.
More efficient doesn't mean more effective
Every business is constantly looking for ways to be more efficient in their operations and processes. What has been compromised with this mindset, however, is the customer. Making certain processes quicker and easier doesn't inherently come with a problem-solving component. On the contrary, it sometimes just means that the problem only arrives more quickly and easily. For example, a person can get a loan – and therefore get themselves into debt – within a few simple clicks on a website.
If processes are being made more efficient, then they need to deliver value more efficiently, too. This is for both parties involved, not just a one-sidedness of ease. Firms need to focus on destination and outcomes, not just the efficiency of processes.
The future of customer care – Elifinty's TrustConnect platform
The current climate is a perfect storm for financial firms. There's new regulation that will require changes to be made, customer expectations that need to be met, and new technology that firms need to adapt to. All in addition to the fact that more people are getting into debt, but most existing debt advice and management solutions cannot accommodate any of these challenges, nor the scale they're at.
However, Elifinty's TrustConnect platform can.
TrustConnect is a socially conscious debt management platform that can provide quick and sustainable resolution for firms and their customers.
It's a connected platform that uses technology to enhance processes, improve the customer experience, and provide better visibility over your customers. Our debt management tool is purpose built, delivering a solution in a time where it is urgently needed.
We can connect your customers to debt advice and get them to the solution they need, quickly and easily – as it suits the customer. This doesn't just meet expectations, but alleviates teams of a heavy workload as repayment issues increase rapidly. A GDPR compliant platform, TrustConnect enables firms to be efficient in the right way.
TrustConnect supports you in giving your customers the care that is required of you. Together, we can build financial resilience for all, and create a society free from problem debt.
Elifinty is the future of debt management and resolution. Want to find out more about how we can help your firm? Get in touch with us today.