Elifinty & Fair Money Advice partner to disrupt debt advice space
07/02/2023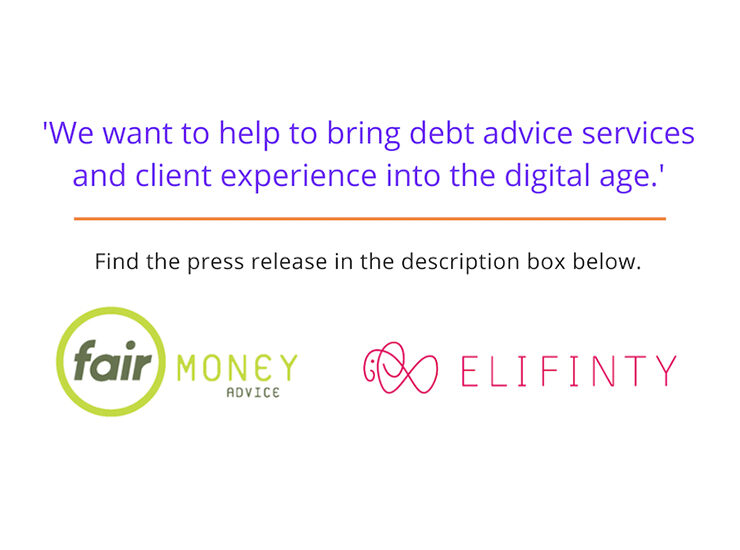 19th February 2021. Press Release
Elifinty and Fair Money Advice partner to bring disruptive technological advances to the debt advice sector, which is marred with lack of capacity and varying customer experience
---
Elifinty, a London-based fintech tech start-up, and Fair Money Advice, a London-based debt advice charity, announce a game changing partnership for a future of better financial services and debt advice for the masses. This collaboration comes on the back of Elifinty's recent participation in the 'FCA & City of London Sandbox' where they are piloting a two-app ecosystem to improve interactivity between consumers and debt advisors and financial wellbeing for the most vulnerable – who need help to secure a better life for themselves and their loved ones.
The partnership brings together high-quality debt advice with transformative technology to help consumers detect early signs of money problems, understand their rights, and empower them to negotiate fairer repayment plans. With the support of high-quality debt advice by regulated debt advisors and supported with game-changing technology. Muna Yassin, Managing Director of Fair Money Advice, said:
We are delighted to partner with Elifinty in this ground-breaking partnership. We want to help bring debt advice services and client experience into the digital age. Our focus will be to improve client outcomes and increase the availability of, and access to, the free debt advice sector. A key component of these objectives will be to ensure advisers are able to take advantage of the technology available to them to maintain high quality advice services. The financial uncertainty and difficulty that the COVID-19 pandemic has unleashed on communities has demonstrated the need for us all to work collaboratively to find effective solutions and we're keen to start this process"
As well as solving people's immediate money worries, Elifinty also provides a money-management tool to help individuals save for rainy days and plan for their and their families future. Maysam Rizvi, CEO and founder of Elifinty, said:
We are very excited to partner with Fair Money Advice, to provide UK's debt advice sector with enabling digital technology to join the dots through the consumer debt advice journey, streamline clunky case management work and create more capacity from pre-advice to post solution care. We will make it easier for consumers to find high quality, free regulated debt advice and help them on a path to break free from debts they can't afford and start saving for a secure future."
This partnership aims to deliver better value for every pound spent on debt advice, improved outcomes for debt advice customers, and a rewarding and stress-free experience for frontline debt advisors.
Fair Money Advice (www.fairfinance.org.uk) – Fair Money Advice (FMA) is a London-based specialist debt advice Charity. It offers specialist free money and debt advice services to communities in London. FMA focuses on providing bespoke on-to-one support to some of the most vulnerable in society; helping them to manage financial distress, manage multiple debts, and work towards financial wellbeing and resilience. FMA also works with a range of community organisations to provide financial capability workshops to improve people's capacity to understand their finances.
Elifinty (www.elifinty.com) – is a FinTech-for-good offering artificial intelligence powered business digitalisation solutions that enable consumer financial wellbeing to credit providers, third-sector debt advice providers and household billers. Elifinty is looking to redefine the financial aftercare for the masses and improve financial wellbeing.
For further information, please contact:
Muna Yassin, muna@fairfinance.org.uk, 0203 475 8811;
Isabella Clare, isabella@elifinty.com.